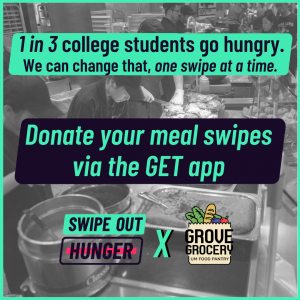 Grove Grocery and Ole Miss Dining have partnered to create a meal swipe donation program, giving students with excess meal swipes the opportunity to donate them to other students.
Want to donate meals?
To donate your swipes, you will need to download the GET app.  Follow the link, or search it in your mobile store.  Next, select University of Mississippi as your school, and log in using your normal WebID.
Note: Only students with the Rebel Unlimited Plus 1, Weekly 14, and Weekly 12 meal plans can donate meal swipes. Rebel Unlimited plan can only donate Plus 1s. Maximum two meal swipe donation per semester. Aramark will match the first 300 meal swipes donated.

Need meal swipes?
Grove Grocery Meal Swipes is a temporary assistance program sponsored by the Grove Grocery, Aramark, and community donated meals. This is a short term assistance program that can allocate up to 30 meal swipes per semester to students, faculty, and staff in need. If you would like to apply to receive meals, or request them for a friend, please fill out this form.
Meals received through this program can only be used at on-campus dining hall locations that include the Rebel Market and the RC South Dining facility (Swipes cannot be used in Student Union or Pavilion Dining).
Questions?
E-mail any questions to grovegrocery@go.olemiss.edu.